Natla Blue Jeans Washing Cup
Secure Checkout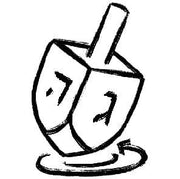 Easy Returns
Quick Shipping
Description

Traditional Hand Washing Natla for Netilat Yadaim, Handmade in Israel by Mickala Design.

Natla (נַטְלָה), is a cup used for ritual washing in Judaism, it is also known as "netilat yadayim". 

Jewish law prescribes several kinds of hand washing - for example after waking up to remove an evil spirit from one's fingers or washing hands before prayer or eating. In two of these hand washings, water is poured out over one's hands with the aid of a vessel - the "Natla".

Ceramic and glazed with shades of blue.  'Al Netilat Yadim' is written in gold and for the final touch, an elegant liquid gold rim.

Measurements: Top diameter - 11 cm (4.3"); 

Width with handle - 16 cm (6.3"); 

Height: 11.5 cm (4.5")

Materials: Ceramic clay, liquid gold
Durable, sturdy, and oven safe.
Please, DO NOT warm pottery in a microwave since it contains a gold metal.
Hand wash only.
Since each is made by hand, size and shape may vary slightly.
100% food safe and lead-free.