My First Yiddish Word Book
Secure Checkout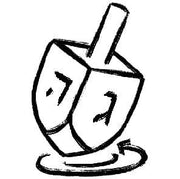 Easy Returns
Quick Shipping
Description

Did you know that Yiddish is written in Hebrew letters but pronounced more like German? Introduce your kids to their mama loshen (mother tongue) and open the door to their cultural heritage! The basic Yiddish vocabulary includes more than 150 words for family members, objects in the home and school, colors, and numbers. Each concept is presented with a bright picture, the Yiddish word, and the translation and transliteration. The once-thriving language, spoken by millions, is undergoing a revival, and kids will enjoy learning to speak the colorful tongue.


Softcover

32 pages

9 3/4 x 9 3/4



Author: Joni Sussman
Illustrator: Pépi Marzel
Ages: 3-8
Grades: PreK-2
My First Yiddish Word Book
Like the book but need pronunciations.
My First Yiddish Word Book
My little Australian cousin loves his new book and his Booba said "it's so Hamish"
Sylvia Reznick
Teach the kids how to schlepp from a young age!
Great book in the tradition of any First 100 words book. I learned a few things myself.
my first Yiddish word book
excellent just what we needed to inspire speaking Yiddish.