Modern Swirl Ceramic Seder Plate
Secure Checkout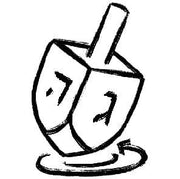 Easy Returns
Quick Shipping
Description

These lovely modern seder plates are handmade, wheel-thrown, high fire porcelain. Each one has a unique grey spiral pattern which is achieved by mixing colored stains with white porcelain. The result is a wood-grain or natural stone effect. This is a functional piece that will be appreciated for its handmade beauty for many seders.
Plates have an integrated small bowl in the middle and six removable, individual bowls that nest into the plate in a circle. As these are handmade, details may vary.


Plates are approximately 9 1/2" in diameter and the 6 small bowls are about 2 1/2" wide.

Dishwasher and microwave safe.
There is a 7th spot on this seder plate, as some families like to add contemporary additions to the seder. This can open discussions of current issues and their own response to them. Some of the more popular elements to add are: Fair trade chocolate or coffee beans which can acknowledge that there is current day slavey in some countries. Chocolate and coffee farmers are affected by exploitation of their crops as an example. An acorn on the seder plate can help to weave indigenous land acknowledgement into a Passover seder discussion. An orange is a common new addition to the seder plate that represents solidarity with LGBTQ+, and all Jewish community members who are marginalized. The olive branch is famous for being a symbol of peace. As such, olives were introduced to the seder plate as a symbol of hope for a future peace between Israelis and Palestinians.