Merry Jew Year's Eve-ukkah Apron
Secure Checkout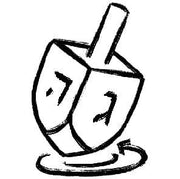 Easy Returns
Quick Shipping
Description

As seen in Gluten-Free Living Magazine!

Vintage 2016 apron!

The right apron to wear while you prepare Jew Year's Day Lucky Latkes and Manischewitz Champagne Spritzers!

5777 has the most epic mash-up since Thanksgivukkah: Merry Jew Year's Eve-ukkah! Hanukkah starts on Christmas Eve and ends on New Year's Day! Celebrate this once in a lifetime Merry Jew Year's Eve-ukkah in style with our exclusive apron. Complete with gold and glittery confetti and the sounds of the season: Jingle, Sizzle, Pop!

Printed in Austin, TX. Do not iron directly on the image. 

Seasonal items are not available for return or exchange after Hanukkah.
More about ModernTribe
Items exclusive to ModernTribe!