Medium Ceramic Mezuzah Case with Silver by Yahalomis
Secure Checkout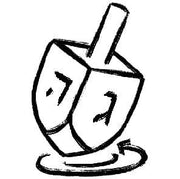 Easy Returns
Quick Shipping
Description

Medium ceramic Mezuzah case with Silver, a contemporary piece of handmade Judaica with loving attention to details. A minimalist and modern design, the letter "Shin" is decorated with Silver, has a 3D twist, and shown completely when approaching to kiss the Mezuzah. A stylish way to enter the home, a great Jewish housewarming gift, and a chic Jewish wedding gift.

In Jewish tradition, the Mezuzah case holds a parchment with verses of prayer and is placed on the doorpost of a house as a sign of faith. The Hebrew letter "Shin" symbolizes the word God, or the "Guardian of the Jewish doors". Scroll sold separately.

Materials: Handmade Ceramic with Silver.

Color: Dark Grey with Silver

Centimetres : Length 15.5 cm, Width 3 cm, Depth 2 cm

Inches : Length 6 inch, Width 1-inch Depth 0.7 inch

Can be used for a 10 cm / 12 cm scroll.

How to place it on the doorpost? There are two stripes of strong double-sided adhesive on the back of the mezuzah. It is Weather-resistant and can be used outdoors or indoors. In order to place the mezuzah just clean the doorpost from dust with a dry cloth, peel off the red stripes from the adhesive, put the scroll inside the mezuzah case, and place it.

Designed and Handmade in Israel.
More about Yahalomis
Yahalomis was founded in 2014 by husband-wife team Tal and Roy Yahalomi, with a goal to design and create handmade ceramic products for the contemporary home. At our studio we create products that we love. We always try to explore new techniques, new materials, and find exciting inspirations for our creative work. One of the studio's unique materials is the Lava rocks clay, which we create from local Basalt rocks from the north of Israel.
​Our work is known for its fine lines and high-end finishes, our quality products are all handmade with love and special attention to little details.
Very pretty
Perfect size, very pretty