Mayer the Matzah Baker Kit Made with Lego® Bricks
Secure Checkout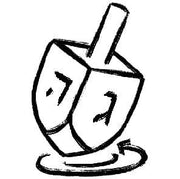 Easy Returns
Quick Shipping
Description

The newest Lego® designer, Yisroel Mayer (age 13) designed this Mayer the Matzah Baker Kit Made with Lego® Bricks and we're glad to have it ready in time for Passover. Afikoman present anyone? ;-)

When the Jews hastily departed Egypt, they quickly baked some bread for the road but didn't have time for it to rise. The result was these round flatbreads which we call Matzah. There wasn't a factory pumping out large quantities of square egg Matzah. Rather, it was literally only flour and water that was hand made in each household from start (the moment the water is mixed with the flour) to finish in less than 18 minutes! The tradition continues today and we use these during the Seder and throughout Passover to remind us of the exodus of Egypt.

This special building set features:

1 Mayer the Matzah Baker Mini-Figure
2 Round matzot
1 Matzah paddle/peeler
1 Brick oven with flames inside!
1 Clip to hold the Matzah paddle when not in use

Minifigure stands over 1-5/8" tall. The paddle is about 2-1/4" tall. The oven measures about 2-1/8" wide, 1" deep and 1-3/8" tall.

Our kits arrive unassembled complete with color building instructions. This set includes 35 brand new genuine LEGO® pieces. Assembled by hand in the USA.

Contains small parts. Recommended ages 4+
very small and not enough pieces
Hi Janet- since this item is made from real LEGO pieces, that determines the size. We put the dimensions in the description to avoid any confusion.
Matzah oven Lego
The directions were easy to follow and the grandkids loved putting them together at the seder. Ages 6 and older suggested.
Disappointed
Missing a matzah. Overpriced for what this was .
Loved it on our Passover Table
My kids kept asking more questions after the first four on Passover--why did we have a Lego guy baking matzah! Perfect little prop for the seder table that the whole family enjoyed.
Fun
The matzoh man was an impulse buy. I admit it. I was happy to find it. Could it have been bigger? Yes. This tiny baker brought a smile to many faces. It was the centerpiece between the candles and still graces my kitchen counter. What more could you ask of a tiny man?