Magnetic Menorah Travel Set
Secure Checkout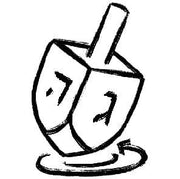 Easy Returns
Quick Shipping
Description

Magnetic menorah travel set in a tin has everything you need to celebrate on the road!

SIZE: 5.5" x 4" 

Candle sticks size: 1"

This is a perfect travel menorah set and includes a box of 44 colored Hanukkah Menorah Candles.
More about Ner Mitzvah
It began just after World War II with a small card and havdalah candle delivered to families in the old Williamsburg neighborhood of Brooklyn.  A small handful of customers has grown since into one of the the most well known and respected supplier of candles, oil lamps, chanukiahs, and related Judaica in the world. Ner Mitzvah is still family owned to this day and still brings joy and warmth to the Jewish homes around the globe.
Perfect for college
I loved this menorah and so did my college freshman grandson and all his friends. It was the perfect size and the menorah magnetically fit inside the metal box lid. No need for aluminum foil underneath. The metal box made it easy to store for sophomore year.
Great small menora
This is a kid sized magnetic box with plenty of creativity for bigger kids to assemble their celebration! I like the compact nature of the kit!
Great Travel Set
I can now bring the holidays on the road!
Cute
Cute and convenient and wonderful
Love This
This cute menorah is perfect for traveling. Its lightweight, and the candles and matches also fit in the box. Since it's magnetic you don't have to worry about the candleholders tipping over and the lid acts to prevent wax from dripping on anything else.