Kano Shabbat Candlesticks Set by Studio Wallaby - Steel
Secure Checkout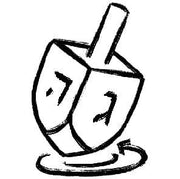 Easy Returns
Quick Shipping
Description

Radiate light throughout your home in beautiful style with these unique, DIY "KANO" candle holders. Set of two.

Made of brushed stainless steel, the candle holders arrive to you as 2D metal sheets that, when folded, transform into the elegant, 3D, stand-alone candleholders. These candleholders allow you to get truly creative and create a set of candle holders that is truly unique to you. One of a kind, these candle holders would make a fabulous addition to your home décor and are perfect for use as trendy, modern Shabbat candlesticks.

Package size : 143x158x5 mm / 5.5x6.2x0.2 Inches.
Flat state size: 133x152x0.5mm / 5.5x6x0.02 Inches


Material: brushed stainless steel with a handmade finish.

Wax removing: Hold the candle holder over the sink and pour boiling water on it until the wax totally disappears.

Cleaning: Clean the product with regular dish soap or a window cleaner. In case of heavy dirt, use a quality stainless steel cleaner.  Check the new cleaner on a small, hidden place.

After every cleaning, dry the product with a soft clean towel. Moisture can cause rust. For indoor use only.

Handmade in Israel.

Do not leave any lit candles unattended. 
These are awesome
Beautiful. Fun to shape them. This aspect makes them unique as each shaped candlestick holder will look a bit different. Makes it more personal. Really enjoy the ingenuity of the creator of these candlestick holders.