Jewess Hoop Earrings - 14k Gold
Secure Checkout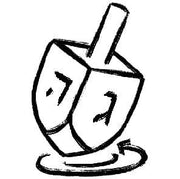 Easy Returns
Quick Shipping
Description

Be the best dressed with these Jewess Hoop Earrings.... let's reclaim JEWESS as a woman that's a KWEEN!!

Adapted from the Ilana Jewess earrings.


14k Gold Plated

Size is 45mm
Pair weighs about 3.8 oz.
Dream earrings but a little heavy (whaddaya gonna do? Wear them anyway)
Look, I'm a big fan of celebrating my Judaism and he's earrings are absolutely stunning! I wish they were a little bit lighter, but definitely worth the money and you won't be sorry!