"It's Lit" Hanukkah Menorah Temporary Tattoos
Secure Checkout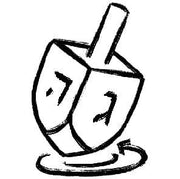 Easy Returns
Quick Shipping
Description

It's Lit Hanukkah party tattoos will be a huge hit as favors and while lighting the menorah! Includes set of 10 tattoos. 

Tattoos are approximately 2 x 2 inches (perfect size for the wrist) 


Application:
Ensure skin is dry and clean. Remove the clear plastic cover, and place the tattoo face down onto your skin. Wet tattoo thoroughly and press tattoo against the skin, hold for 30 seconds. Peel off backing paper from your skin, the tattoo should now adhere. Pat dry, don't rub. Keep away from lotions and sunscreen.

Tattoos can last 2-5 days depending on where applied. To remove rub with baby oil, or rub off under the shower with a washcloth. Tattoos are waterproof and non-toxic. Do not apply to sensitive skin, your eyes, or if you're allergic to adhesives. If irritation occurs, remove the tattoo and discontinue use.
More about ModernTribe
Items exclusive to ModernTribe!