Metukah Honey Jar with Dipper by Chai Modern
Secure Checkout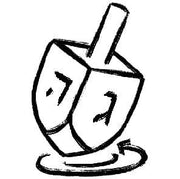 Easy Returns
Quick Shipping
For a sweet start to any year, Chai Modern has created their Metukah Honey Jar with a sophisticated dipper.  This sweet combination stems from an age-old Jewish tradition of eating sweet foods to express our hope for a sweet new year. The jar and lid are ceramic, and the dipper is acrylic.

Sizes and materials:

Jar:

9.5cm Dia x 4.7cm H
3.74" Dia x 1.85" H
Ceramic

Lid:


9.5cm Dia x .6cm H
3.74" Dia x .24" H
Ceramic

Honey Dipper:

.5cm H x 13cm L
.2" H x 5.12" L
Acrylic

All Chai Modern products are thoroughly checked for quality and consistency, so we hope that you will enjoy each piece of your Chai Modern family as much as their family has enjoyed creating it.

Their ceramic products are fired to an extremely high temperature for strength and durability and we recommend that the ceramic pieces be hand washed in warm soapy water.

Acrylic can be scratched easily, so extra care in handling is needed to prevent damage. To clean the acrylic, we recommend that you wipe it with a moist, soft microfibre cloth only. Avoid ammonia-based products, acetone, alcohol, and lactic acid. Do not use anything that is abrasive as it will leave scratches.
More about Chai Modern
Chai Modern is a Cape Town based design studio offering traditional Judaica in a simple, fresh and modern way. At the heart of every Jewish family is 'tradition'. Chai Modern celebrates this tradition by bringing 'life' or 'chai' to your rituals. Proudly made in South Africa.