Hebrew Pomegranate Menorah - Oil or Wax Candles
Secure Checkout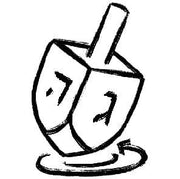 Easy Returns
Quick Shipping
Description

The Hebrew Pomegranate Menorah is a true work of art. Crafted from intricately cut metal with a vibrant gray, dark green, and burgundy print. The body of the menorah is adorned with the words of the beloved poem "These candles are holy," infusing your Hanukkah with a profound sense of sacredness. At the base, a delicate print of small burgundy pomegranates and their stain adds a captivating finishing touch.

Each dorit judaica menorah comes complete with aluminum cups, ensuring a hassle-free experience when lighting your Hanukkah candles. Additionally, these menorahs are compatible with ready-made oil kits for those who prefer the timeless tradition of consecrating and lighting with oil.

29 x 20 x 7.5 cm / 11 x 7.9 x 3 inches

Do not leave lit menorahs unattended. 
More about Dorit Judaica
Dorit is native to Jerusalem. From a very young age she took up the brush and under the guidance and encouragement of her beloved mother went on to seek new materials, work methods and technologies. 
Utilizing techniques and tools from the world of graphics and in combination with traditional laser cut patterned decoration work and Jewish texts from her upbringing and environment, she created a unique and fascinating combination of shapes and hues, decorations and letters, old with new, traditional with modern.