Happy Hanukkah Window Wall Decal
Secure Checkout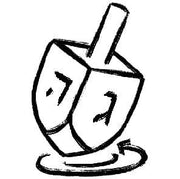 Easy Returns
Quick Shipping
Description

Hanukkah inspired window or wall decal adds a festive touch to your home! It comes with all the pieces attached to a backing which you will be able to remove and arrange which ever way you'd like. This Hanukkah set includes a Menorah, Dreidel, a few snowflakes, stars, gift box and a Happy Hanukkah sign.

12" x 12"
Just Okay
These were not sealed in any kind of protective wrapper. As a result, some of the window clings were bent or torn.
I should have read the description with more attention
Silly me, I thought this was a whole page decal, like a sign. It is individual items including the letters. It was too intricate for me and I would have spent a lot of time obsessing about placement and alignment. Now that I know, I will assign the task to another person. Still, I liked the effect on the window by the front door, for all to enjoy. Having a way to store them back on their sheet was handy and will keep them together for next year.
Window decals
I love the idea. I just think these are too small to be completely effective. I am also surprised that "HAPPY" is individual letters and not one decal. Will keep my eyes open for next year's improvements! 🕎.