Hanukkah Oil Menorah for Oil or Wax Candles
Secure Checkout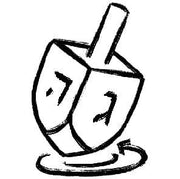 Easy Returns
Quick Shipping
Description

Inspired by Origami, the Hanukkah Oil Menorah is trendy, yet, it is designed for oil candles, which allows traditional 'Hidur Mitzvah'. This new menorah from Studio Armadillo with wavy pattern of folds, is a tribute to the iconic Menorah of the temple.


This elegant menorah is crafted from ceramic and glazed in a translucent off-white glaze. Gorgeous to display all year.

The Menorah fits wax Hanukkah candles too. To use this handcrafted menorah with candles, melt their edge with the Shamash, and stick them into the holes.  


Material: White ceramic with transparent glaze
Measures:

Ceramic Menorah: 14" X3.2"X 2"h (35.5cm X8cm X 5cm h)
Each Oil Cup: 0.9'' dia X 1.6'' h (2.3cm dia X 4cm h)

Handmade in Israel by Studio Armadillo. 

How to remove wax drops?

Use a plastic card or credit plastic ruler to gently scrape wax drops off the menorah's surface.
Put the menorah inside a sink and carefully pour hot water over it, to remove remaining wax spots.
Do not put in the dishwasher.

Do not leave any lit menorahs unattended.