Hanukkah Gloplay Decals - Set of 27
Secure Checkout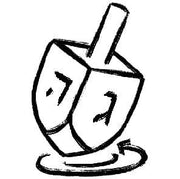 Easy Returns
Quick Shipping
Description

Brings new meaning to the festival of lights!  Hanukkah Gloplay Decals are the most powerful glow-in-the-dark wall stickers that transform your room into a magical place. Great for kids who avoid darkness or to add some shine to any room. The set includes 27 decals: 

Dreidel x 8
Star of David x 8
Menorah x 1
Candle x 4
Present x 1
Oil Jug X 1
Sufganiyot x 2
Celebration Bottle x 1
Wine Glass x 1

Keep the decal surfaces clean to best maintain their original brightness.

For best results, stick Gloplay decals in a location where they will be exposed to bright lights when lights are on.

*Full charge after 10mins of light exposure (with sunlight) / 30mins with room lights only. Lights glow up to 5 hours for each charge.

Remove decals gently, avoiding any damage to your walls.

Material: PVC
Made in Japan
Package Size: 3.8" x 11"

Choking Hazards not for children 3 and under. Do not put it in your mouth.
Gift
These items will be opened by grandchildren on first night of Hanukkah.
I'm sure they will like them.
Very cool looking
These look really cool in the dark. Well done, very sticky too.