Hand in Hand Mezuzah - Bronze Plated Pewter
Secure Checkout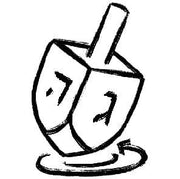 Easy Returns
Quick Shipping
Description

Hand in Hand K-12 are interfaith schools that are centers for Arab-Jewish Education in Israel. Deeply inspired by their mission to create a shared society in Israel, artist Aimee Golant wanted to create a piece that would be of benefit to their schools. This piece was created in collaboration with Islamic artist Nabeela Sajjad– who provided the stunning Arabic calligraphy stating "In the Name of G-d." The Arabic has been pierced out to show the Torah through the letters.

Aimee donated a mezuzah to each of the five schools in Israel and 10% of sales of this piece will benefit Hand in Hand K -12. Each piece comes with information about the schools.

The outside dimensions of this mezuzah case are 4″ x 1″ x ½". Holds and 6cm or 7cm scroll, not included.