Fused Glass Menorah - Pink
Secure Checkout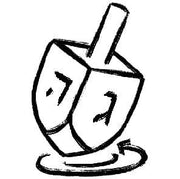 Easy Returns
Quick Shipping
Description

The chopped glass called frit that decorates this Fused Glass Menorah was fused to create a raised but smooth finish. Complete with silver Star of David cups for the candles.

The eight holders are in a straight row and the shamash is raised and to the side making it a kosher menorah.

This menorah measures approximately 27cm X 9cm and sits on little rounded bumpers so that it can easily be picked up.

Each piece is slightly different as in any handmade item. Made in Israel.




Do not leave any lit menorahs unattended.
More about Shevi B Glass Creations
Modern Judaica and decorative fused glass designs designed and made in Israel. Show your love, convey your sympathy, express your appreciation, share your joy or simply make a statement with modern glass art that is functional, bold and distinctive.