Ester Magen Statement Earrings - Magenta
Secure Checkout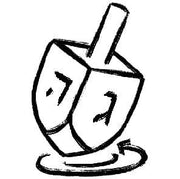 Easy Returns
Quick Shipping
Description

Big, bold, and funky, these statement earrings are a dreamy magenta acrylic. Large Magen David statement style earrings with crystal accents.

Materials: High Quality-Light Weight Acrylic,

Sterling Silver Stud Posts Nickel Free.

Measures at 3.75" x 2.75".
Small Batch - Local Production. HANDMADE IN NEW YORK CITY.

As these are handmade, individual pieces may have subtle variations.
More about Ariel Tidhar
Ariel Tidhar was born and raised in Chicago in an American-Israeli family. Tidhar graduated in May 2016 from Pratt Institute in Brooklyn, NY with a Bachelors of Fine Art in Fashion Design. During her time at Pratt, Ariel fell in love with textile, embellishment, and color. Her work has evolved to combine a sprinkle of Jewish humor as well as nostalgic references that honor her Israeli roots. She uses hand-craft as a way to lessen the divide between art and fashion. Her namesake line now includes modern Judaica pieces, home décor, and accessories all made by Ariel herself in Brooklyn, NY.
Disappointed
I am so disappointed—I loved these earrings and wore them so often right after buying. But when I went to put them on yesterday the post for one of them had become unattached to the earring. How frustrating! I think I can fix with superglue, but now I'll just be worried about it breaking again.