Disturbing Ten Plagues Candy Box
Secure Checkout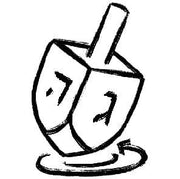 Easy Returns
Quick Shipping
Description

Now you can have your plagues and eat them too! Or something like that. Disturbing Ten Plagues Candy Box makes a great hostess gift, or a fun way to teach kids (or adults) about Passover. One delicious chocolate candy for each plague.

Chocolate is parve (no dairy) and certified kosher for Passover by Kosher Miami (KDM).

Ships the week of March 23rd. These items are made fresh for Passover, therefore they arrive to us the week of March 23rd and we will ship to you ASAP. If you include a Sweet Tooth item in your order, your order will be shipped the week of March 30th.

Disappointing
My box arrived heavily damaged (the box of chocolates, not the shipping box) and very few of the chocolates were as detailed or clean as the picture.
Hi Caleb,
Oh no, so sorry to hear that! A member of our customer service team will reach out to you.
Plagues
This was a wonderful Passover gift! And tasty, too.
Very clever "Disturbing 10 Plagues Candy"
The 10 Plagues Candy box was a huge hit at our family Seder this year. All of the candies were very clever in the representation of each plague. I gave a 4 star only because some of the candies were not finished as well as the others (I ordered two boxes and they were not consistent). But, overall, a very unique and clever presentation.
Hilarious...and yummy!
Got these as gifts for friends. Unlike the other reviewers, our two boxes arrived with all plagues in their designated spots and looking fine.
Thank you for your feedback. So glad your plagues arrived in good condition. We will be looking into packaging issues for next year... and yes, they are yummy. Had some last night, too!
Great gift!
I too found them great - but they got quite mixed up and some had some damage from the shipping. I had to refer to the picture here to determine what was what..not so easy from what I received - but I still love them!
Thank you for the review. Sorry for the mixed-up shipping. Next year we will figure out something different for shipping. Thanks and Happy Passover!