Colorful Handmade Wood Dreidels, Set of 4 by Barbara Shaw
Secure Checkout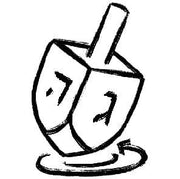 Easy Returns
Quick Shipping
Description

A great way to spin out of control - in a fun way, is with our set of 4 wooden handmade dreidels. They will bring a pop of fun and color to your festive celebration and keep- the kids young and younger amused and quieter - and that has to be a winner.

Made in Israel.
More about Barbara Shaw
Barbara Shaw's passion is to artistically present Israel and her Jewish roots in a fresh, creative, and fun way. She loves fusing the ancient with the contemporary. She likes her ranges to have an international feel, yet with a look that says it could only have been produced in Israel.
Barbara grew up in Sydney, Australia and came to Israel in 1986. After searching for gifts and not finding what she wanted, she decided to produce her own. She saw a gap in the market for bold, well designed and packaged gifts; items that are practical and beautiful.
All products are made ethically in her workshop in Jerusalem. Her aim is to touch people's hearts and strike a chord with their heritage and family background.