Colorful Cubes Menorah by Israel Museam
Secure Checkout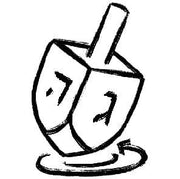 Easy Returns
Quick Shipping
Description

A modular Hanukkah lamp in a unique contemporary design.

The lamp contains nine units: eight cubes of equal size in different colors and a shamash that is taller than the other elements and comprises all the other colors.

When not in use, the cubes (candle receptacles) can be stacked one on top of the other, creating a beautiful decorative tower. The lamp thus appears different on every night of the holiday and can also be used throughout the year to light Shabbat candles.

The cubes are made using a special concrete and epoxy resin cast set with brass candle holders. The lamp's compact and elegant box optimally protects the units when unused.

Each item is individually handmade, so please allow for slight variations of color.
Use drip-free candles only.
Gentle hand wash only.




Do not leave any lit menorahs unattended.
More about Israel Museum
The Israel Museum in Jerusalem is the largest cultural institution in the State of Israel and is ranked among the world's leading art and archaeology museums.