Blue Smash Glass with Navy Embroidered Suede Bag
Secure Checkout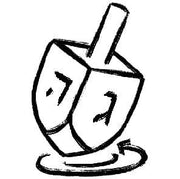 Easy Returns
Quick Shipping
Description

This blue smash glass is specially designed to be thin for easy breaking. There are no thicker or thinner spots so it breaks evenly without creating any sharp and dangerous protrusions. Comes in a luxuriously embroidered drawstring navy suede bag. The glass is sewn into a heavy white fabric for additional protection against the glass shards. The embroidered design spells out "מזל טוב" in Hebrew and "Mazel Tov" in English.

Bag measures 5" x 9". 
Jewish Wedding Smash Glass in Blue Seude Bag
I was very pleased with this item! I am a widow on a low, fixed income and two very dear friends recently were married. I wanted to buy them something that no one else would duplicate, and something that would also hold special meaning for both of them. This beautiful gift more than exceeded my expectations! Thank you so much for making this quality gift available to those who cannot afford to buy the more expensive items, but still want it to be something that others will remember for a long time to come! I truly appreciate everything that I have ever bought from your store over the years. Wishing you a very happy day! - Leah :)
Hi Leah,
Thank you for sharing this beautiful review with us,
It means so much to us, and filled our team up!
We appreciate you, and are here if you need anything!
All the best,
Siobhan
Mazel Tov
Arrived intact but with a little luck and a blessing, I'm sure it will smash into pieces at the right time.