Star of David Basha Beaded Pillar Candleholder
Secure Checkout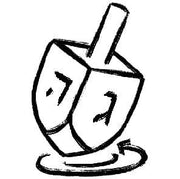 Easy Returns
Quick Shipping
Description

Wax meets wonder! These candles are not your ordinary kind. Each Basha Pillar boasts creative beaded patches. 

But here's the twist: they're eternal vessels, not regular burners! We've added a glass dish on top for a tealight (not included).

Please use tealights inside of its glass dish only, and never leave unattended. Be sure to keep away from flammables, children, and pets.
Dimensions: 3" x 4"

Do not leave lit candles unattended.
More about Adara Rituals
Adara Rituals is a collection of Jewish ritual objects by Tara Townsend. Fed up with traditional decor, she started reading voraciously about the origins of Jewish rituals, and uncovered shining truths and mystical treasures that lay beneath the ground of our traditions. She learned about Judaism's roots in celestial cycles, in nature-based spirituality, and in an inclusive world-view that deeply embraces the Divine Feminine. Adara, named after her daughter's Hebrew name, provides beautifully crafted pieces to enliven and illuminate your own rituals.