A Synagogue Just Like Home
Secure Checkout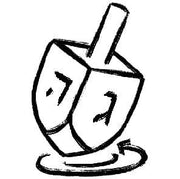 Easy Returns
Quick Shipping
Description

A new rabbi's efforts to fix up his aging synagogue are a labor of love—and a comedy of errors—until his congregants fondly pool their talents in this lighthearted celebration of community.

Rabbi Ruben loves his synagogue. But he doesn't love the creaking floorboards, leaking sink, or drafty windows. Surely, he thinks, he can fix it up so it feels cared for, like a happy home! But Rabbi Ruben doesn't know much about home repair, so when his creative fixes—challah dough plugging a drippy faucet, tablecloths blocking a window draft—make things humorously worse, it'll take his whole congregation banding together to remind him what really makes a place feel like a happy home. Alice Blumenthal McGinty's warm, inviting text pairs with Laurel Molk's lively, friendly illustrations for a story about community and coming together—sharing, helping, caring.

By Alice Blumenthal McGinty

Illustrated by: 

Laurel Molk

Hardcover
40 pages
Age 4-8 years



Our places of worship & people matter❤️
The artwork drew me to this book.
Kindness in every picture.
I want to read this to our grandchildren, to understand more about synagogue and the ways of caring for that which is of much significance. It tells and shows such loving and joyful caring.
Treasuring the beauty of community and our places of worship is told in a to be read over and over again style.
Really great little glossary at the back to help teach meanings of key elements of synagogue tradition. I want my grandkids to learn friendship with those who have given us the invaluable Holy Words and Ways…sweetness throughout this book.
A book to be treasured!
I loved this book and so did my class!