Thirty 30 Minute Seder Haggadah | Standard and Large Print
Secure Checkout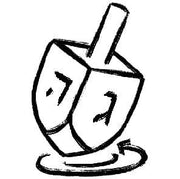 Easy Returns
Quick Shipping
Description

A boring seder? Never again! This colorful paperback Thirty 30 Minute Seder Haggadah will streamline your Passover seder to just 30 minutes while covering all the key components of a traditional Passover seder. The 30-Minute Seder text includes blessings and explanations about symbolic Seder plate components, the retelling of the 10 Plagues and the Exodus (in brief), the Four Questions, the song "Dayenu," the welcoming of Elijah the Prophet, and the perennial wish that next year the Seder may take place in Jerusalem. Rabbinically Approved.


The large print edition measures 8.5 x 11 inches and is perfect for the leader of the seder or for those that have trouble viewing standard-sized print.
30 Minute Seder
Perfect to do with the little ones and also perfect for the elderly. Attention spands are short for the very young and the elderly. Beautifully written to cover everything. I read a review that said, "drinking 4 glasses of wine in that short of a time spand is not good". No problem at all, use small glasses, don't fill them up! Perfect!
Bought a different Haggadah to use
I didn't like this Haggadah and didn't end up using it for my Seder. It wasn't participatory and the text was pretty weird in certain parts. Not a fan and wouldn't recommend. If you are looking for a 30-minute Seder check out the New American Haggadah. I was a big fan and will be using it next year!
Hi Jenna,
Sorry you did not like the Haggadah! They are very personal, and what one person finds perfect, is not the best for another person.
Thoroughly enjoyed the books, all guests as well
Family Friendly Haggadah
This was our 3rd year using the 30 Minute Seder. We had guests who ages ranged from 8 months to 80 years old, people of secular, Reform, Conservative and non-Jewish background attending. 30 Minute Seder was perfect for our guests and our family...not too short to be disrespectful but not too long to lose attention spans. The pages are colorful and beautifully illustrated, the Passover story succinctly told and the placement of the songs is flexible. Tonight for 2nd Seder we're having 17, with 7 of them under the age of 5 so for this occasion we're modifying the 30 Minute Seder to 15! I too love the customer service from Modern Tribe and appreciated the match box and the complimentary copy of a Jewish women's magazine...what a nice touch!
Lovely book
When you have a 3 and a 1 year old ready to eat, a quick seder prayer is a joy.