Papercut Spring Decor Seder Plate
Secure Checkout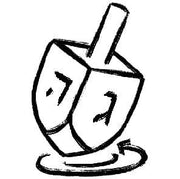 Easy Returns
Quick Shipping
Description

This gorgeous Papercut Spring Decor Seder Plate will bring tradition and timeless beauty to your family's seder! Detailed with spring flowers (snow drops, tulips, daffodils, pansies, crocuses and roses), labeled with the six traditional seder items, and with the phrase "L'shana Haba'a B'yerishalayim Habnuyah", this plate makes a showstopping wedding gift, milestone anniversary present or gorgeous honoree gift!

The diameter of the plate is 15", and the piece is constructed out of tempered glass, stainless steel and waterproof paper. It comes with six glass bowls for the seder plate items.


Handmade
Care: please wipe with a damp cloth.
Package: 22"x22"x6"
Each plate comes packaged in its own dustbag to keep your piece clean and protected for storage.
More about Jennifer Kaplan Designs
Jennifer Kaplan is inspired by Hebrew letter forms, sacred texts, and the concept of "Hiddur Mitzvah," literally, beautification of the commandments. She strives to create beauty and art out of ancient traditions, allowing the texts to come alive through calligraphy, color, papercuts and design.