Shabbat Shalom Challah Board by Laura Cowan
Secure Checkout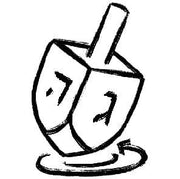 Easy Returns
Quick Shipping
Description

This spectacular, sculptural Shabbat Shalom challah board uses Laura's signature elements of contrasting polished and matte metal and gently curved waves of steel engraved with the words Shabbat Shalom (in Hebrew). Instead of using the traditional silversmith's technique of soldering in order to join pieces together, Laura has perfected a technique using hidden magnets.

The high quality, shiny, stainless steel pieces are hand curved into waves. Both the waves and the steel salt dish are attached to the base by hidden neodymium magnets. The wooden board is also detachable if you prefer to rip and not cut your challah.

Perfect as a Sabbath gift for any Jewish home.

Materials: Anodized aluminum, stainless steel, birch wooden board, neodymium magnets. 
Size: 28 cm x 41 cm  (11 inch x 16.5 inch) 

This item ships from Israel. Express shipping is not available. Allow 10-15 business days to arrive.
Shipping Info

Free shipping on U.S. orders $75+
Item ships from Israel. Please allow up to 10 business days to arrive with standard shipping.
Easy returns within 30 days of purchase
More about Laura Cowan
Contemporary Judaica designer and Jewish artist Laura Cowan began her career in London after graduating in Silversmithing and Jewellery at London Guildhall University. She now brings her unique ideas to the field of Judaica, working from her design studio and workshop in Tel Aviv, Israel to build original handcrafted pieces.

Many of Laura's Judaica designs are inspired by the Sixties mission to land a man on the moon. Although this was achieved even before Laura was born, she was fascinated by the hype and excitement generated by the race to the moon. Laura also loves the irony of a futuristic design based on what is now history. Combining this with her Jewish upbringing and identity, Laura has produced many stunning pieces of modern Judaica.