Coluna Marble Kiddush Cup by Anna New York - Silver
Secure Checkout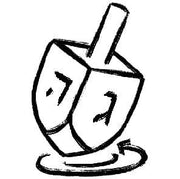 Easy Returns
Quick Shipping
Description

Our Coluna Kiddush cup is for people who love modern design, and tradition. Crafted from Italian Carrara Marble and Nickel-plated metal, our kiddush cup was designed to be passed from generation to generation, bringing light and joy to Shabbat and holidays.

We obsessed over every detail, from determining the correct volume of the cup (derived from the Shulchan Aruch, which specifies that a kiddush cup must hold at least a revi'it - 3-5 ounces - ours is over 6), to the precise diameter of the plate beneath, so no wine spills on the table.

Our Marble Kiddush Cup is made from Carrara Marble, a stone thought to help with positive focus, and to encourage flexibility during moments of challenge. The goal: a joyous Shabbat, and serenity at home.

Carrara Marble & Nickel-Plated Steel
Wipe clean with damp soft cloth
4" x 4" x 5"

Designer Anna Rabinowicz is a product designer by training. She holds Master's Degrees in Design and Engineering from Stanford University – a program in which she now teaches. Her passion in life is design. Anna has always been interested in the intersection of science and art, and began her career designing prosthetic knees and devices for cardiac bypass surgery. Her love of biology and nature segued into her creation of our company, with its focus on natural materials and biological inspiration. 
Shipping Info

Free shipping on U.S. orders $75+
Standard orders typically ship in 1-2 business days from our Ohio warehouse and take 3-10 business days to arrive.
Expedited shipping is available and ships the same day if placed before 11:00AM ET.
Easy returns within 30 days of purchase
More about Anna New York
Anna Rabinowicz founded ANNA New York in 2002, in her grandmother's basement in Queens, New York. It was a family business and a matriarchy from the very beginning. Her mother and grandmother put the small rubber feet on the bottoms of our agate gemstone coasters, our first design, and took charge of shipping.  After Anna's grandmother passed away, her young daughter Talia became involved in our company, helping with design development. Today, we continue to be a female-owned and operated company.