Schmooze Candlesticks
Secure Checkout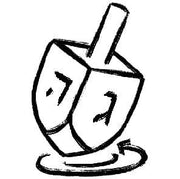 Easy Returns
Quick Shipping
Description

Modern black and white ceramic Shabbat candlesticks with a leaf design add a chic touch to your Shabbat table. Made in South Africa.

We recommend that our ceramic pieces be hand washed in warm soapy water.

To remove any wax from the candlesticks, please use a plastic card to gently scrape away the dried wax drops. For any remaining wax, please soak in hot water.

Please use drip-less candles.
9cm w x 9.5cm h
3.54" w x 3.74" h
Ceramic. Candles not included.

Made in South Africa

DO NOT LEAVE ANY LIT CANDLES UNATTENDED.

All Chai Modern products are thoroughly checked for quality and consistency.

Because Chai Modern products are handmade, there may be tiny color and shape variations, adding to the uniqueness, charm, and individuality of each item. 

Our ceramic products are fired to an extremely high temperature for strength and durability.  On rare occasions, small areas in the kiln do not reach full firing temperature, and may leave a very slight glaze on a product, detectable as tiny hair-line cracks in the later months. This does not affect the strength or quality of the product in any way. 
More about Chai Modern
Chai Modern is a Cape Town based design studio offering traditional Judaica in a simple, fresh and modern way. At the heart of every Jewish family is 'tradition'. Chai Modern celebrates this tradition by bringing 'life' or 'chai' to your rituals. Proudly made in South Africa.