Songbird Mezuzah By Emily Rosenfeld
Secure Checkout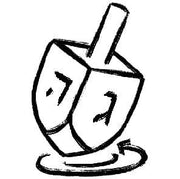 Easy Returns
Quick Shipping
Description

The songbird is singing out shins, the 26th letter of the Hebrew alphabet that you often see on mezuzah cases. Emily Rosenfeld makes pewter Judaica that is modern with a touch of whimsy. Her mezuzot are hand cast pewter and can be hung indoors or out. Made in the USA.

SIZE: approx. 4.5" long x 1" wide.
Shipping Info

Free shipping on U.S. orders $75+
Orders are made to order and typically ship in 3-5 business days from Emily Rosenfeld's Massachusetts Studio
Standard delivery takes 3-10 business days
Easy returns within 30 days of purchase
More about Emily Rosenfeld
Emily started making her own jewelry in 1991 in Oakland, CA, running her business out of a Murphy bed closet. Now settled in Western Massachusetts, with a view of birch trees and a river she swims in during the summer, her studio is in a converted factory building filled with other artists. She feels continually inspired to develop new designs and play with new materials and techniques.
She is privileged and thankful to be part of the immensely supportive and loving community of craftspeople and crafts buyers. Making her work makes her very happy and she hopes owning it brings a measure of joy as well.
Songbirds Mezuzahs
Very lovely; still waiting for my Son-Law; or one of my adult kids to hang it for me
Singing Doorpost
As soon as we signed the papers on our house and had the keys in our hands we went there, the first thing I did was hang my Songbird Mezuzah at my front door. NOW it's home.
Modern, well made
Just the perfect mezuzah! Modern, and well made! I have bought 4 of them!
Awkward position
This delightful design is impossible to correctly place and honor both correct position and the design- to place it correctly causes the bird to be on its back. I like it very much, but it's not functional.
Special Piece
We bought one of these Mezuzahs for each of daughters for Hanukkah. They have both recently purchased new homes and we thought it would be the perfect gift. Looked through tons of Mezuzahs but chose this artistic piece as it had Hebrew letters but the shape of the bird gave it a unique and whimsical feel. They product we received was high very quality from the beautiful finish on the object itself to the information sheet, cloth bag it came in and screws to attach it to the doorframe! We decided to upgrade to a kosher scroll as it was for their main doorway. This was simple to do on the website. Pleased with both purchases. Can hardly wait to give them this weekend as I know our daughters will be thrilled!