Matzah Ankle Socks
Secure Checkout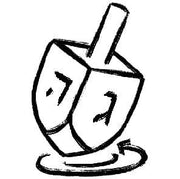 Easy Returns
Quick Shipping
Description

Got Matzah? These unisex matzah socks will bring Elijah to the table!

One size fits most
Made in the USA
7.5" L x 3" W
Print on one side only
Avikomen prize
These were great gifts for the children who look for the matzoh on Passover. It was a big hit. Socks are adorable.
Matza Ankle Socks for Fun, Festive, Seder Feet!
I sent this delightful gift to a dear friend in Kentucky for Passover. She was so excited to have received them and wore them to her Seder
celebration. She was ecstatic over them and was eager to wear them at the Seder meal. While I did not get to see them, but only by the picture, I thought
they were charming and would be fun to wear.
Fabulous Seder Addition
I used these adorable socks as a pacecard at our Passover seder. Everyone was delighted by them and we wore them right then and there. Love!
Fun gift
My daughter is away at college and is obsessed with Sox. She loved this little gift.