ArkiType Hardwood Menorah
Secure Checkout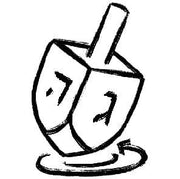 Easy Returns
Quick Shipping
Description

"ArkiType" Menorah crafted from your choice of five select hardwoods. The modern design mimics a boat or ship, thus the "ARK" in the name. Finished with lacquer.

Available in: Hard Maple; Cherry Wood, American Black Walnut, White Ash or African Mahogany

The candle cups are available in silver or black hard anodized aluminum. The candle cups are firmly set into the wood portion (not removable)

 The 'shammash' or servant candle is set off and elevated from other eight candles. Grooves running the length of piece extenuate its linear form.

The candle cups fit standard 3/8" menorah candles. Candles are not included with this item. 

Dimensions are approximately: 17" (43 cm) long x 2.5" (6 cm) tall x 1.25" (3 cm) wide

Gift wrap not available.


Do not leave any lit menorahs unattended. Keep lit menorahs away from children. Avoid burning in drafts; place on a heat-resistant level surface. This menorah is for display and to be used as decor. Use with candles at your own risk.
More about The Knotty Dane
Based in Stillwater, Minnesota, Mark Petersen founded The Knotty Dane in 2019 when his creative urge to produce wood projects outpaced his wife's desire to display them in their home.  
A son of a Danish immigrant, Mark grew up surrounded by mid-century Danish design, which influences his work. He applies his design aesthetic to create new heirloom-quality twists on traditional objects. 
Environmental consciousness is important to The Knotty Dane. Mark also enjoys the hunt for reclaimed, recycled, rescued and remnant hardwoods and employing reused material in his projects. 
Mark is trained and licensed as an attorney and makes his real living in real estate investment, although he seems to spend more and more of his time pursuing and promoting The Knotty Dane.