Hannah the Hanukkah Hero – Includes Hardcover Book
Secure Checkout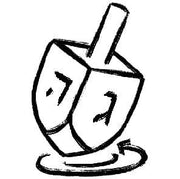 Easy Returns
Quick Shipping
Description

Unleash your inner Hanukkah Hero. Hannah Maccabee is mad! Her cousins have gone off to face the Greeks and defend the Jewish people, and defend the Jewish people. Her father, Jacob, struck out days ago to find more oil… meanwhile she's sitting at the Great Temple not allowed to help. Luckily Hannah is smart, strong, and has a heart filled with love. Nothing can stand in her way and the world is about to find that out!

Set includes the Hannah the Hanukkah Hero 12'' doll and book.
Hannah IS a Hero
My granddaughter will love this for Hanukah! What a great role model for her!