Art JudAIca Coffee Table Book with ChatGPT and DALL·E 2
Secure Checkout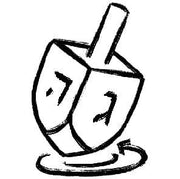 Easy Returns
Quick Shipping
Description

OY, OY, OY? More like AI, AI, AI!

Introducing the very first AI generated Jewish art - the Art JudAIca Coffee Table! (Get it? JudAIca??)

How was it made? Good question! 

This book was generated using AI to assist in ideation and create generative images using natural language.

ChatGPT is an AI language model developed by OpenAI, which is capable of producing human-like text based on the input it is given. The model is trained on a large corpus of text data and can generate responses to questions, summarize long texts, write stories and much more. For this book, we used ChatGPT to produce ideas for images.

DALL·E 2 is an AI system that can create realistic images and art from a description in natural language. For this book, we submitted 36 ChatGPT ideas and selected our favorite variations designed by the system.

If you're thinking, huh? Basically, a computer made this book of beautiful Jewish-inspired art and it's for sale!

Next up, teaching AI to clean the chametz for Passover. We can dream, right?

The very first AI generated Jewish art
By ModernTribe with ChatGPT and DALL·E 2
Hardcover

9" x 7"

Printed on 80-lb coated paper in premium color

36 unique images

Totally kosher 

Printed to order. Rush shipping not available.
More about ModernTribe
Items exclusive to ModernTribe!
Shame AI
Instead of hiring an actual Jewish artist, you had AI create this. Shame.
Hi D, We appreciate your feedback. The AI we employed was developed with input from Jewish artists. You can learn more about our approach by following this link: https://bitly.ws/Xhei.
Please contact us directly at shalom@moderntribe.com if you would like further assistance or have any concerns.
A little disappointed with its contents!
Hotos are beautiful, BUT!