As Part of Cyber Monday Fun, PopJudaica.com Offers Insta-Jew Kits: Mystery Bags of Jewish Items for Hanukkah Gifts and Moses Toast: a Piece of Toast with the Image of Moses Burned Into It. Money Raised From Sales of These Funny Jewish Gifts will Benefit the Jewish Non Profits Jewcy and JDub Records.
You can now buy $10 Insta-Jew Kits along with other funny Jewish gifts when shopping for Hanukkah gifts. Insta-Jew Kits are mystery bags containing at least three items whose value and quality are not guaranteed. One of the items will likely be a t-shirt and with it a chotsky, a CD, a book, or some underpants with Yiddish on the tuchus. Modeled after Woot.com's Random Crap (affectionately called "Bag of Crap") the Insta-Jew kits are a fun way to practically give away a bunch of quirky, weird Jewish stuff which has landed in our warehouse and raise money for non-profits that enrich the youthful Jewish American culture.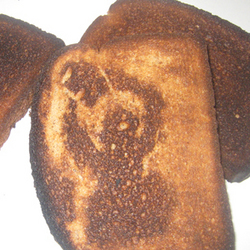 Moses Toast: Moses with the Ten Commandments
We are allowing no returns, exchanges, special requests or kvetching when it comes to the Insta-Jew Kits. This is just a fun surprise for 10 bucks, great for Hanukkah party gag-gifts, and a way to raise money for JDub and Jewcy.
To extend the fun further, we are also announcing our recent miraculous discovery: Moses Toast. Pop Judaica employee Patrick Aleph recounts, "we were making Insta-Jew Kits and took a toast break. When I took the toast out of the oven, it had the image of Moses on it. I'm a religious man — I knew it was a sign from G-d." Rivlin Roberts explains the Moses Toast another way: "We remembered a news story about an Ebay listing for toast with an image of Jesus on it. We were laughing and saying how Jews would never see a deity in toast. Then we decided to have some fun with it." A Jewish take on "Jesus Toast," Moses Toast is a piece of toast with the image of Moses holding the Ten Commandments burned into it. The toast sells for $49.95 and 100% of the proceeds go to the non-profit Jewish music and media companies Jewcy.com and JDub Records.